Second World Wide Experiment with Cloud Remote Control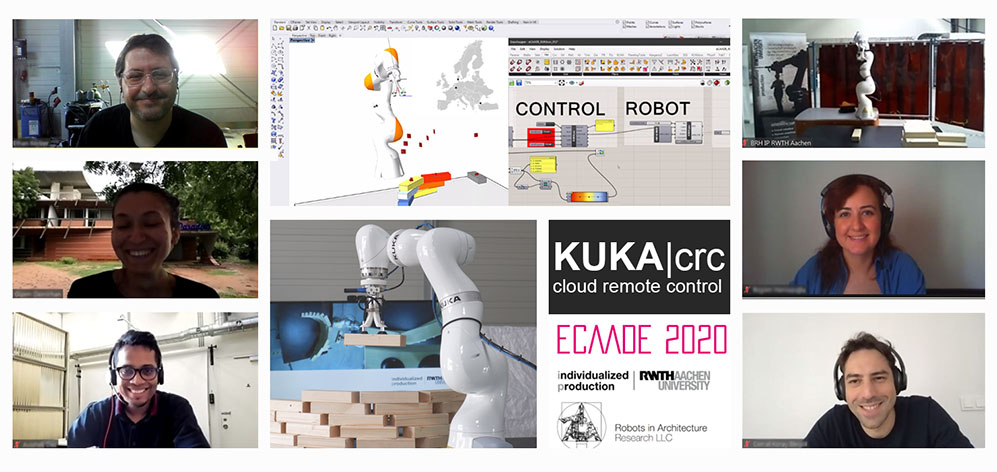 During the ECAADE 2020 digital conference, the Chair for Individualized Production held a KUKA|crc Cloud Remote Control workshop. This was the second successful test of a new software created by Robots in Architecture Research. This innovative process allows workshop participants to control robots from the comfort of their own international homes.
The Cloud Remote Control software empowers people from anywhere in the world to remotely engage in robotic fabrication. The automated cell is simulated and executed through the cloud with feedback immediately provided to the remote operator. Video streams, digital twins, and process data are streamed from the robotic cell allowing the operator to start, monitor and adapt their robotic process. Through CRC we engage worldwide audiences in robotic collaboration while maintaining safe social distances. We look forward to inviting more participants to test the Cloud Remote Control process in future workshops.
"Being able to stream construction data between digital and physical realms from different locations in real-time is a game-changer. Controlling a robot for the first time and from another country was an inspiring experience and motivated me a lot even in the pandemic conditions."
feedback from ecaade workshop participant - Begüm Hamzaoğlu
Research Assistant
Istanbul Technical University
Faculty of Architecture · Department of Architecture
Sep 15, 2020